Are winters cold in Vietnam?
Best places to visit in Vietnam in WinterWinter in Vietnam in 2022: Tips for travelers before booking their tours in Vietnam: weather, climate in the North, Central and SouthUpdate
Best places to visit in Vietnam in WinterWinter in Vietnam in 2022: Tips for travelers before booking their tours in Vietnam: weather, climate in the North, Central and South
Updated: November 21, 2021 Tommy Ngo Vietnam Seasons 0 comment.
Paradise Travel
Winter in Vietnam is from late October to February, the period shows a different cold season. While Hanoi and North Vietnam endure a long humid winter sometimes dropping to below 10°C, the Central and South of Vietnam is warm and dry.
Vietnam offers a sensory overload of sights and sounds that everyone should visit at least once. However, tourists looking to travel to Vietnam during winter should be wise in choosing its proper destinations as the temperature varies from north to south.
While the central and south of Vietnam get the most of sunlight, which offers tourists the perfect Vietnam beach vacation with mild temperatures ranging from 23 -26 degrees Celsius, the north region is surrounded with high humid coldness.
In winter, Hanoi and nearby areas (Halong Bay, Ninh Binh, Mai Chau etc.) may drop to below 10°C and it is even more severe in mountainous areas like Sapa, Ha Giang, Mau Son etc., when the temperature may drop below 0°C.
Regardless of the coldness of Northern Vietnam in winter, tourism is considered to be at high season as many foreign travelers come to visit this area during this time.
Must-see places in Winter in Vietnam
Sapa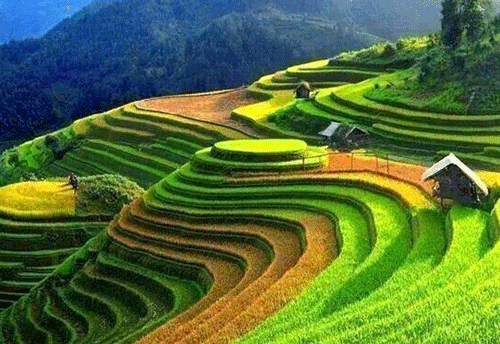 Sapa
Sapa is beautiful all year round but winter provides a special charm that visitors will not want to miss. The fog creates an aura of mystery that also lends credence to Sapas reputation as Heavens Resort. Many people, especially photography lovers, visit the town in winter as the temperature can dip below the freezing point, which gives Sapa amazing look with snow. If you love the peace and tranquility, Sapa valley is a must-see place on your tour to Vietnam.
Mai Chau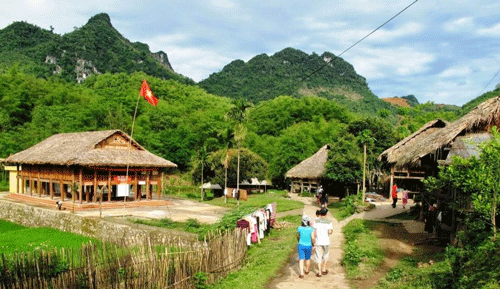 Mai Chau
Mai Chau in winter can be quite cold since the valley gets a lot of humidity and fog. The region is home to different ethnic minorities and provides a culturally rich experience to any tourist. You can spend your time biking and trekking or taking in the sights of farmers tending to their paddy fields. Make your way to Chieu Cave as well, which boasts stunning stalactites that are breathtaking in their beauty.
Tam Dao
Tam Dao
Tam Dao is a stunning sight to visit. Majestic mountains loom through clouds and invite visitors to marvel at their beauty. One of the highlights of this area could be Tam Dao National Park. It has a unique climatic condition due to the tall mountainous range divides the region into two parts, which contributes to rich biodiversity. The park has eight types of forests and more than 800 species of animals.
Festivals not to be missed in Winter in Vietnam
Christmas Eve
Though not a big proportion of Vietnamese people are Christians, Christmas Eve is still widely celebrated in many big cities in Vietnam. The streets in Hanoi and Ho Chi Minh city are often packed with people on the night of 24th December when everyone gets excited to enjoy Christmas decorations and lights of Catholic Cathedrals or simply takes pictures at marvelous decorative scenes of big hotels and department stores. Santa Claus services to give presents to children become popular today.
Tet
Tet Holiday in Vietnam
Tet is the Vietnamese Lunar New Year and falls on January or February, the same time the Chinese New Year is observed. This national holiday of Vietnam officially lasts for three days but many people stretch it to a week or even 10 days. There is a noticeable buzz before Tet as people are busy to shop, clean their homes and prepare special food for the celebration. Ancestor worship, giving lucky money to children and old people are some featured culture of Vietnam during traditional Tet Holiday. If you are planning to travel in Vietnam during Tet Holiday, you probably need to book air/ train tickets and accommodations well in advance.
Vietnam Tet Holidayin 2019 takes place from 4th February to 7th February.
In 2020, Vietnam Tet Holiday takes place from 24th January to 27th January.
In 2021, Vietnam Tet Holiday takes place from 11th February to 14th February.
Hoi An Lantern Festival
Hoi An Lantern Festival
Hoi An Lantern Festival is celebrated on the 14th day of each month. It takes place in the former port city of Hoi An with the majority of celebrations centered in the Ancient Area. Beautifully crafted paper lanterns bring amazing scene for the eyes. You can also attend lantern-making classes, listen to musicians playing traditional instruments and join a game or two for Chinese chess.
Perfume Pagoda Festival
The Perfume Pagoda (Chua Huong) in Hanoi draws a lot of local Pilgrims and tourists from different parts of the country to attend the festival. Travelers journey by boat to Huong Mountain, then disembark and continue by foot to Huong Tich cave. The festival falls on the end of winters in mid- February to early March.
Traveling to Vietnam during the winter season is a completely new experience. Head to different parts of the region and you will be presented with views and festivals that are a once-in-a-lifetime experience. Its natural beauty is unmatched with mouth-watering cuisine and outstanding temples. Then why do you hesitate to come to Vietnam this winter season to soak in everything it has to offer?
Read more:
Best places to visit in Vietnam in Spring
Best places to visit in Vietnam in Summer
Best places to visit in Vietnam in Autumn

Pin this article for later trip planning!
Start planning your tailor-made Vietnam tour by contacting one of our specialistsCreate Your Trip
Leave a Reply Cancel
Your email address will not be published
Save my name, email, and website in this browser for the next time I comment.

Δ
You might also like
Best places to visit in Vietnam in December
Best places to visit in Vietnam in November
Best places to visit in Vietnam in October
Best places to visit in Vietnam in September
Best places to visit in Vietnam in August
Best places to visit in Vietnam in JulyAbout Vietnam Vietnam Itinerary ideas Vietnam Seasons
Video liên quan